The Highest Peaks of the 7 Alpine Countries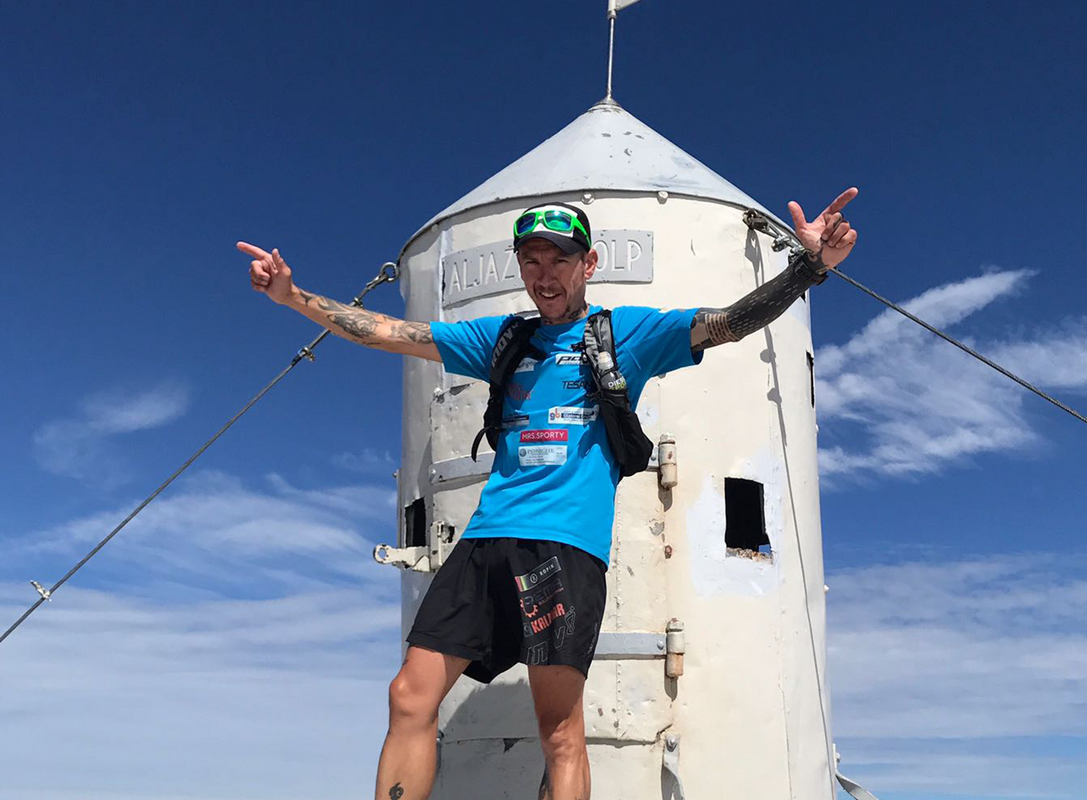 As we have previously reported, Andreas Ropin did not have an easy past and sport became his salvation. What was just a hobby at first, became a consuming passion and the former alcoholic transformed himself into an ultrarunner.

Preparation and Equipment for the 7 Alpine Summits
How did Andreas Ropin prepare for this 7 summit challenge? In terms of fitness, there was not much for Andreas to do. Over the past few years he has set himself numerous sporting challenges such as the Rennfield Challenge in 2011. This saw him summiting the mountain 8 times, knocking off 8800 metres of height gain, the equivalent of the height of Mount Everest, in 23 hours. He has also climbed Mont Blanc, summited the Großglockner five times, and run from his home town to Croatia. He runs almost every day (often more than once) in the mountains around his home.
First, he needed to plan his route and provisions. Preparations actually began two years ago. The idea was born when he climbed Mont Blanc, and he wondered whether it might be fun to run from his home to Mont Blanc, taking in a few other mountains along the way. His brother, also an all-round sportsman, suggested that instead of running up random mountains along the way, he could run the highest mountains in all 7 alpine countries. Together, they worked out a potential route.
The first attempt at running the 7 alpine summits had to be cut short due to injury. After a recuperative period, his good friend recommended that he cover the route in the opposite direction, meaning that he would run towards his home and family. During his first attempt, Andreas did not have a support team, and this time mountain guides were posted at specific points along the route.
On this second attempt, he had a team comprised of friends, his father and his brother to ensure his safety and to provide emotional support. An employee of his sponsor company, Innofreight, was on standby to help him with provisions and to arrange accommodation. Andreas was able to call this person daily to arrange hotels where he needed them.
A vital factor was also his clothing. This venture threw everything at him, from extreme temperatures both cold and hot, wind and of course rain. His sponsor Inov-8 provided him with everything he needed.
Andreas told us, "As it turned out, it was great to have this second attempt; I was better able to prepare for specific aspects of the whole plan".
From start to finish over the 7 Summits
His route began in Chamonix in France, and led him to Bruck an der Mur, his hometown. Along the way he summited Mont Blanc (4810 m), Gran Paradiso (4061 m), the Dufourspitze (4634 m), Grauspitze (2599 m), Zugspitze (2962 m), the Großglockner (3798 m) and Triglav (2864 m). His motto along the way was 'Giving up is not an option!' He began every day between 4 and 4:30 am. At the start of every day, he ate breakfast along the first few kilometres, then jogged to warm up before hitting his consistent running speed. His team usually followed at around 6 am with the support vehicle, and met him every few kilometres to provide him with drink, müsli bars and company.
For Andreas, the hardest and most challenging section was the Dufourspitze in Switzerland. It consisted of almost 7 hours of scramble climbing. As he put it, "the land fell away hundreds of metres on either side and I'm no professional climber. I felt responsible for my team too. It took me a few days to get over it'.
It was not always easy to deal with the mental strain of those 24 days. Furthermore, his joints and muscles made themselves known. Not everything went to plan and once he struggled to the peak without a guide to help. Thinking of his target and his family kept him going during those tough, scary sections of climbing.
"There were also innumerable wonderful moments out in the fabulous natural environment, in the mountains and on the peaks which I am truly grateful for'.
Of prime importance for Andreas is that his family is always supportive of every adventure he embraces. "I am now going to spend some time recovering from this challenge and spend more time with my family. Slowly but surely, other ideas for new ventures are taking shape".

Follow Andreas:
Website: http://www.ropin-andreas.at
Facebook: https://www.facebook.com/andreasramboropin/
Instagram: https://www.instagram.com/andreas_rambo_ropin/?hl=de