Red Lentil and Coconut Milk Soup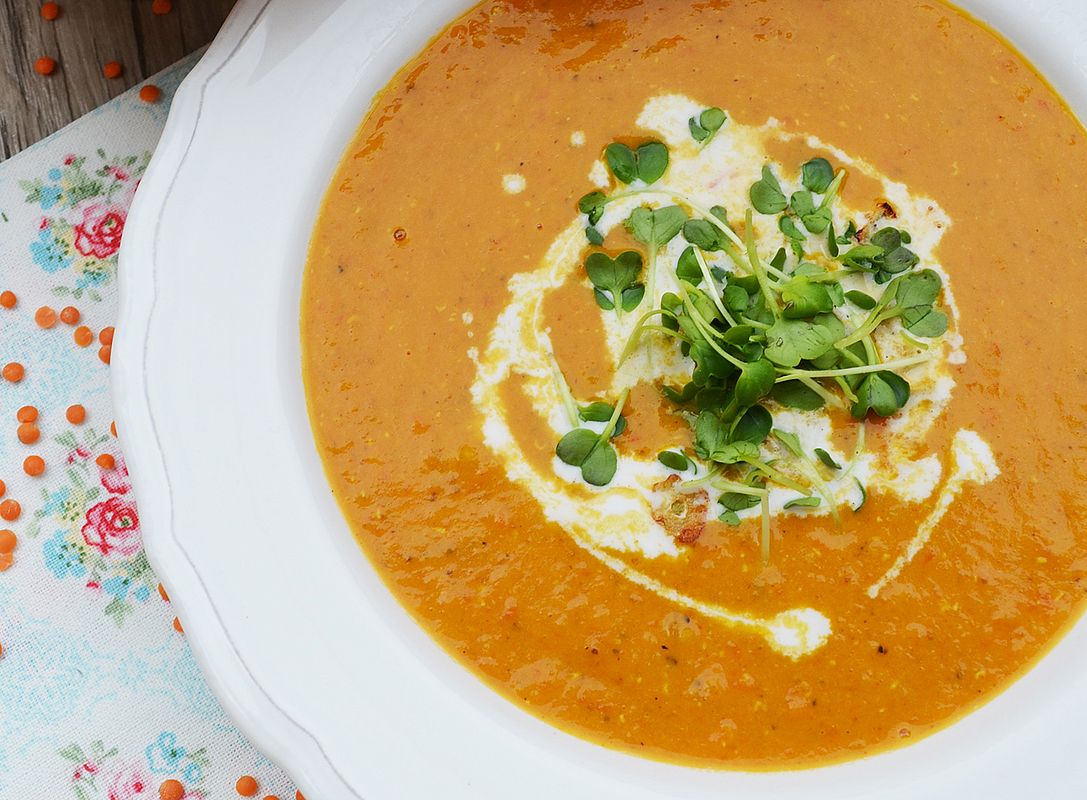 Ingredients: (serves 4-6 people)
1 onion
3 cloves garlic
1/2 fennel bulb
2-3 carrots
300 g red lentils
1 piece of ginger, thumb-sized
2-3 tsp turmeric
2 tsp curry powder
Approx. 800 ml – 1 l vegetable stock
1 tin peeled tomatoes
1 tin coconut milk
A little lemon juice
Salt, freshly ground pepper
A little olive oil

Preparation:
1. Chop the onion and garlic. Dice the fennel and carrots.
2. Warm a little olive oil in a large pan. Sweat the onions and garlic until transparent.
3. Add the vegetables, lightly sauté, and season with salt and pepper. Add the turmeric, curry powder and ginger and brown gently, then add the stock.
4. Add the lentils and allow to simmer for ten minutes.
5. Add the tomatoes and allow to simmer for a further ten minutes.
6. Puree the soup and stir in the coconut milk. Heat the soup again and season to taste with salt, pepper and lemon juice.
7. I added a few al dente broccoli flowers to serve. A few tangy radish sprouts are also a tasty addition to the soup.

Enjoy it! ☺

Follow Lena:
Blog: http://meinleckeresleben.com
Facebook: https://www.facebook.com/mavieestdelicieuse/
Instagram: https://www.instagram.com/mein_leckeres_leben/