Nepal - Trekking through heaven and hell - a 13-day endurance test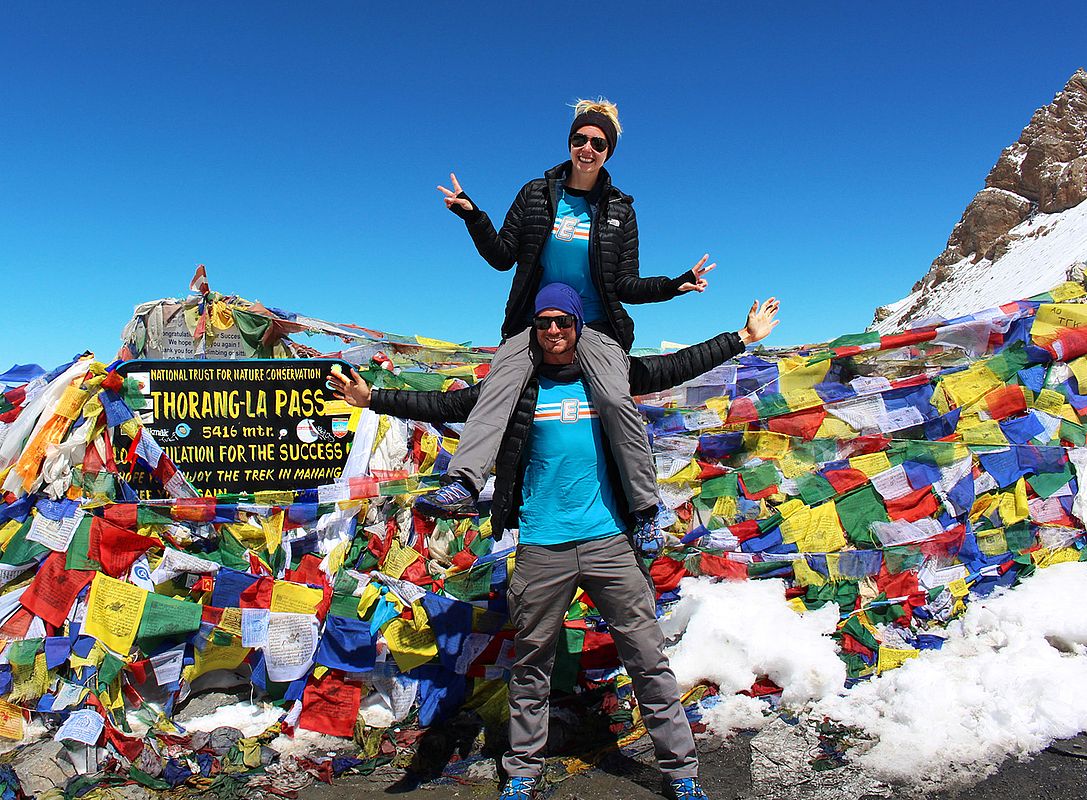 We had already heard a lot about Nepal from our friends and neighbours. This, combined with a little research, soon convinced us that this was our next destination of choice. Nepal offers everything from easy to strenuous treks, yoga retreats and fabulous places to relax, everything the heart desires.

As fitness trainers, we didn't waste time deciding which kind of trek we wanted – obviously, we opted for the strenuous option! This quickly led us to decide to do the 2 week ascent to Thorong La Pass at 5416m, also known as the Annapurna Circuit.
We spent a short night in Kathmandu, mainly so we could stow our baggage. We set off bright and early the following morning, bound for Besi Sahar, with one rucksack weighing in at 14kg and one at 16kg. These were for carrying the essential trekking items, and of course, walking around with more than just your own body weight also serves as a full body workout. At first, it felt rather cumbersome, but after a few days, we hardly noticed it any more.
Most hikers skip the first few days of walking and take a jeep for the initial height gain. We wanted to walk the trek from start to finish using, of course, FITAPP everyday. Trekking with activity tracking! ☺

We set off every day at 6:30 in the morning, to make the most of the day, and hiked for anything between 5 and 9 hours per day in order to reach our place for the night. The higher we went, the worse the GPS signal, and we were reminded what a wonderful invention FITAPP is. If you know how many kilometres you have hiked each day (and, thanks to numerous trekking maps, we did!), you can then simply enter the activity in your FITAPP diary. This proved incredibly useful at times such as these, especially because we were keen to know a final kilometre total at the end.
We hiked through beautiful scenery, to the point where we could no longer decide which view we liked the most. The higher we hiked, the colder the nights and the thinner the air, but oh, how stunning the scenery from the trail! Every day of this trek brings new challenges and takes you ever more often to your limits (particularly when you need to hike through a snow storm when you're ravenous, or when you really need the toilet!!).
Nonetheless, all the hard work is forgotten when, at the end of a fabulous "total challenge" final stage, you pop out behind a snowdune to find you have reached the pass! It was an unimaginably emotional moment and both the panorama and also the joy of having attained a new personal goal made the exertion more than worthwhile.

So, dear sporty people, in case any of you are wondering which challenge you should aspire to next, the Annapurna Circuit it is ☺

Our 13 day hike in figures looks like this:
- 13 days
- 4616 m height gain (though, if we include hiking up AND down, this number is considerably higher!)
- 146 km and
- Incredibly special moments in the Himalayas

After our trek, we more than deserved our few days off in a yoga retreat in Pokhara and we spent the final days in Nepal practicing yoga and meditation, and consuming plenty of fantastic food and lassis on Lake Fewa. After a trek like that, all of this is feasible without even a hint of a guilty conscience!
The next step for us will be India where we have decided to undertake qualifications to become yoga teachers. We hope you are as excited as we are about what awaits us there!

Follow Bina and Martin:
Web: http://www.travel-letics.com/
Facebook: https://www.facebook.com/travelletics.official/
Instagram: https://www.instagram.com/travelletics.official/?hl=de