Iceland adventures with FITAPP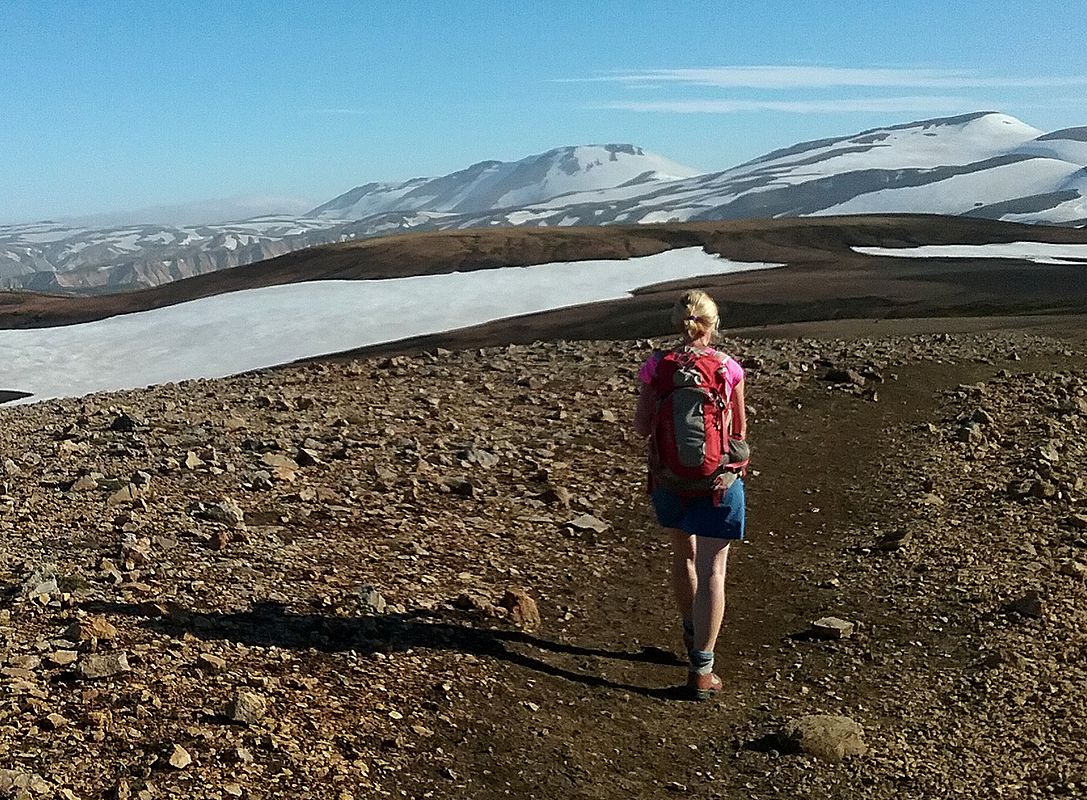 Hiking in Iceland is not for the weather-shy. If you don't want to experience at least 3 seasons of weather conditions on one walk, you're better off sticking to the Blue Lagoon and seeing the sights that most tourists in Iceland visit. But for hardy types with good raincoats, shorts, sun cream, woolly hats and everything in between, Iceland is a playground to be discovered.

We, Peter and Maia, tried a home exchange and landed on our feet. Iceland is not a cheap destination and a visitor could spend hundreds each night on accommodation, so we were delighted when we found a family keen to visit the Salzkammergut, and we swapped heat and tomato plants for geothermal energy and volcanoes. There is a plethora of wilderness to be discovered in Iceland, and plenty within striking distance of our borrowed home for the 10 days we were there.
One particularly beautiful hike began not far north of Reykjavik and we began trekking, accompanied by FITAPP, and headed up to the Glymur waterfall. This is known as the tallest waterfall in Iceland, though we didn't really appreciate what that meant until we got up close. Along with a few other trekkers, we found ourselves on a varied path through fields of joyous lupins, followed by caves, sandy tundra and a few exciting river crossings. In Iceland, that means boots off and grit your teeth if the water is cold! I had broken my arm prior to the trip, so got funny looks from other trekkers as my plaster-cast and I waded through the depths! A relatively easy hike took us up to the gorge where the magnificent Glymur waterfall cascades down an interminably long drop, through a verdant chasm that only birds can reach. Iceland is still wonderfully free, so don't expect fences to keep you safe…tread carefully!
We, with FITAPP in tow, decided that this exuberant landscape was so wonderful, we wanted to explore more than most people. So we left the path and headed straight up the mountain, making a bee-line for the nearest peak towering above us. On the way, we found beds of moss at least 20cm thick. The temptation to lie down and never get up was only second to the desire to see what was at the top of the mountain. The panorama from the peak was stunning – with 360 degree views of the sea, the fjords, a few snow-capped peaks and even a few volcanoes including Snaefell where Jules Verne began his voyage to the centre of the earth.
A summer trekking holiday in Iceland feels decidedly relaxed, as there is no time pressure. As long as the weather holds, you can trek until midnight as only then did dusk truly begin, and by 3 am you can be back on the go! This was fortunate for us, as we missed our bus into the highlands for our hut hike on the Laugavegur long-distance path. Hire cars are unable to negotiate the river crossings in the highlands, so the bus was a necessity – and missing it proved to be a wonderful mistake. Instead, we stopped off at the fabulously solitary hot springs of Leirubakki, with Hekla towering behind us, before getting the later bus. We only began our big hike at 5 pm which, given the length of the days, was no problem! The Laugavegur trek is a 4 or 5 day hike south from the central highlands, through lava fields, over rhyolite plains, over snow and rock, via thermal pools and bubbling geysers. We completed the first stage to the Hvratinnusker hut in a little over 3 hours, marvelling at the scenery. We knew from guidebooks how far it was, but Fitapp was able to tell us how many kilometres we detoured in our desire to see everything off the beaten track! We passed fields of obsidian, a type of lava rock which looks like black glass and is formed when lava cools very quickly. It is strong and atmospheric, and a wonderful place to enjoy a cheeky glass of wine whilst watching the 'sunset' at midnight.
After 10 days of trekking and climbing everything we could see (usually completely on our own), we treated ourselves to a more touristy day; a hike behind Hveragerđi where the river flows warm from the ground. My wonderful plaster-cast protector allowed us to wallow in the river for hours as we used the pumice from the river bed to smooth our worn feet. A bath gets cold but not so this river. Time and time again, Iceland proved to us how immensely powerful nature is.

Maia Bristol is a translator, blog writer and avid traveller based in the Salzkammergut.